Renew or Join Membership
BELIEVING IN ARTISTIC PROGRESS SINCE 1942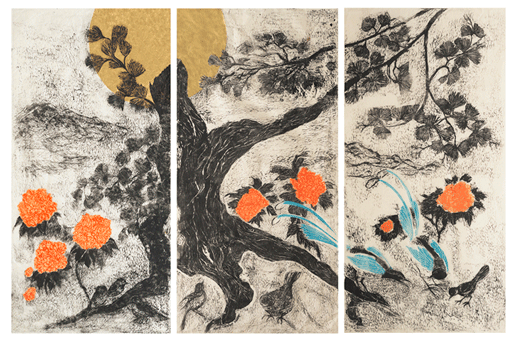 Mary Carolyn Webber,  "Pines Peonies and Pheasants"
Audubon Artists was formed in 1940 and Incorporated in 1946. The organization has an impressive history and many notable artists including Louis Betts, Paul Cadmus, John Pike, and Andrew Wyeth have been leaders and members of Audubon Artists.
The many benefits of Audubon Artists Membership include:
Being part of a prestigious and historic

national 

art organization (founded in 1940)
Ability to link your art website from the Audubon Artists membership directory
Ability to list upcoming shows in your Audubon Artists membership directory listing
Opportunities for your artwork to be exhibited on our webpages
Opportunities to be showcased on our social media sites
Participation in our Annual Exhibition and other online exhibitions
Receive and submit member news to our Newsletter
Opportunities to participate in Board activities and leadership initiatives.
Elected Members – $70/year
Elected Members are appointed by the Audubon Artists leadership after an Associate Member has juried into three exhibits, in the same medium category, within a six-year period. You will be notified when qualified for Elected membership and invited to apply.
Also available for College Students (with student ID) at a discounted rate, $60/year.
Associate Members – $40/year 
Associate membership is open to all USA-based artists. Enjoy networking, museum tours, crit nights, exposure on our website, inclusion in our member directory, a place to list your upcoming shows.
Associate Membership is also available for College Students (with student ID) at a discounted rate, $35/year.
Honorary Members
Honorary Members are appointed to lifetime membership by the Executive Board in recognition of their long service to the arts and to our organization.
Perks
Benefits
Perks
Associate
Elected
New
Events:
Museum Tours
√
√
New
Events:
Critique Nites
√
√
New
Events:
Showcase on audubonartists.org's website.
√

√

New
Associate Member Competition
Grand Prize: Automatic Elected Membership
√

New

Elected Member Competition

√
Annual Exhibition
√
√
Catalog
√
√
 New
Events:
Fundraiser 
√
√

Newsletter Artists Spotlight
√
√
New
Social Media Spotlight
(Facebook and Instagram)
1-week campaign
2-weeks campaign
Join or renew today.
Please use this form.