Membership in Audubon Artists
BELIEVING IN ARTISTIC PROGRESS SINCE 1942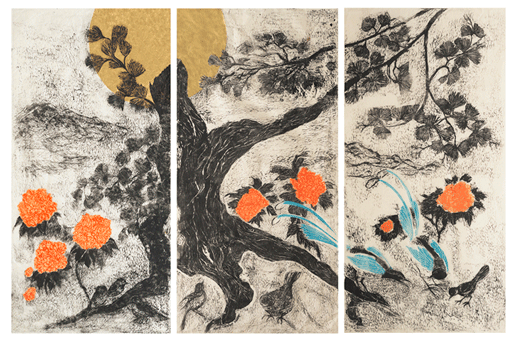 Mary Carolyn Webber,  "Pines Peonies and Pheasants"
Audubon Artists was formed in 1940 and Incorporated in 1946. The organization has an impressive history and many notable artists including Louis Betts, Paul Cadmus, John Pike, and Andrew Wyeth have been leaders and members of Audubon Artists.
Your membership will renew annually unless you opt-out. Members enjoy placement in our member directory.
Associate Members = $40
Student Associate Members = $35
Elected Members = $70
Student Elected Members = $60
Honorary Members = Gratis
Elected Members
Elected Members are appointed by the Audubon Artists leadership after an Associate Member has juried into three exhibits, in the same medium category, within a six-year period. You will be notified when qualified for elected membership and invited to apply.
Students enjoy a discount on all levels.
Associate Members 
Associate Membership is open to all US-based artists. NEW members are always welcome & eligible for the Annual Exhibition if membership is purchased prior to the posted entry deadline.
Students enjoy a 20% discount on all levels.
Honorary Members
Honorary Membership is given to select Elected Members by the Board of Directors in recognition of their work and dedication to our organization.
The many benefits of Membership include:
Being part of a prestigious and historic

national 

art organization (founded in 1940)
Ability to link your art website from the Audubon Artists membership directory
Opportunities for your artwork to be exhibited on our webpages
Opportunities to be showcased on our social media sites
Participation in our Annual Exhibition and other online exhibitions
Receive new and/or  submit member news to our Newsletter
Opportunities to participate in Board activities and leadership initiatives.
Join or renew today

.