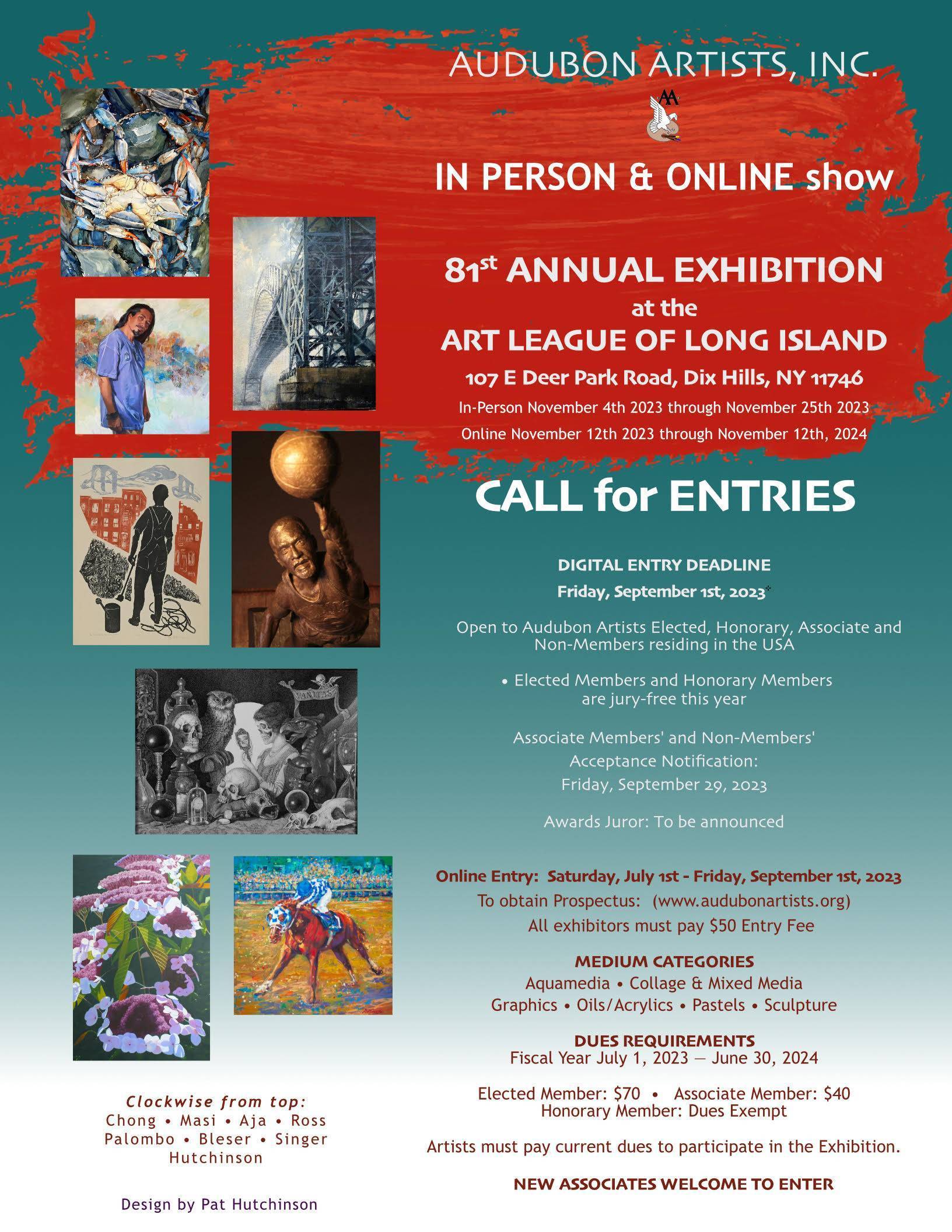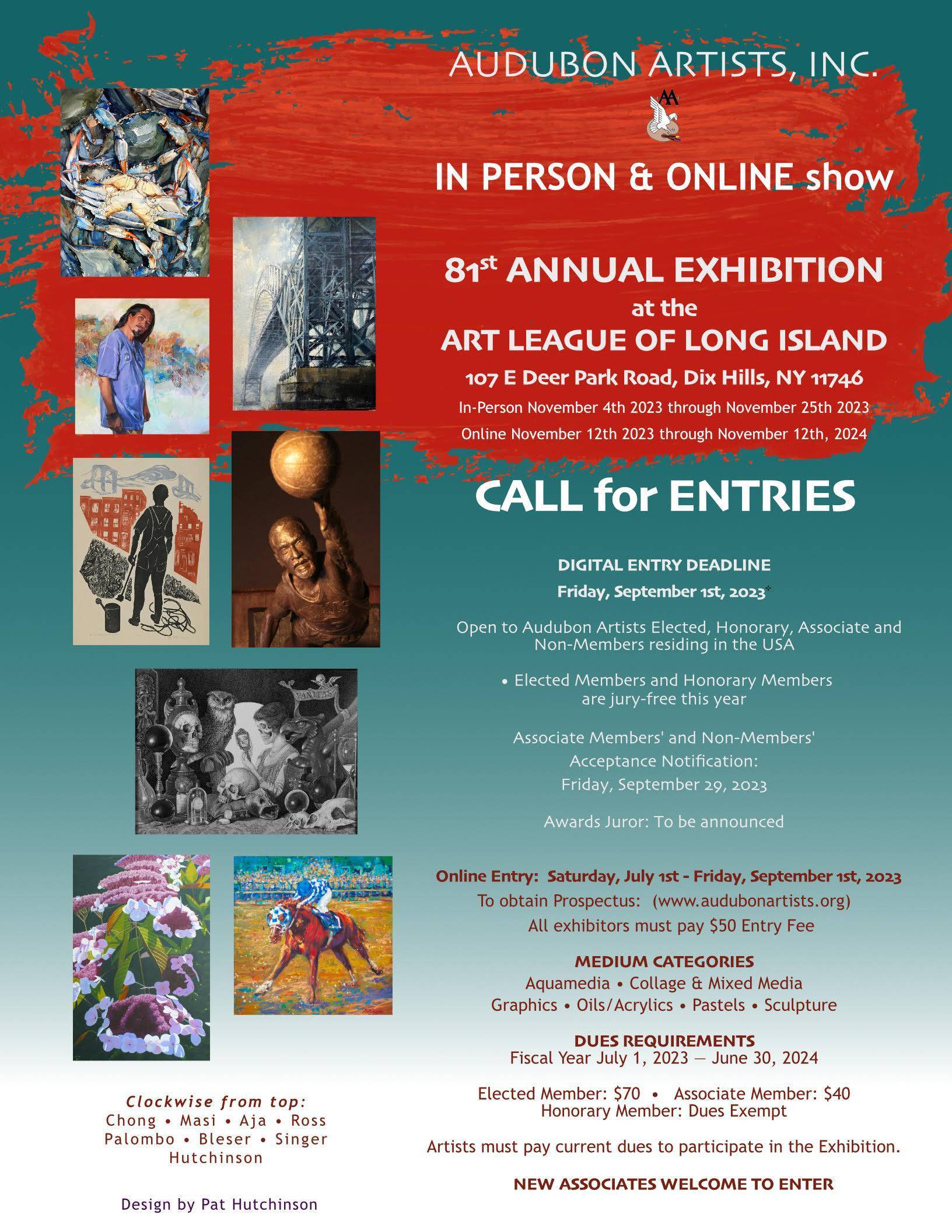 Presidential Message 2023
Dear members,
I hope you have all had a wonderful summer season! As the summer comes to a close, I want to extend a reminder to submit to our 81st Annual Exhibition. This year, the Annual Exhibition will be hel both online at www.audubonartists.org, as well as in-person at the Art League of Long Island, located at 107 E Deer Park Rd, Dix Hills, NY.
Entries may be submitted at the following link: Audubon Artists, Inc.'s 81st Annual Exhibition (showsubmit.com)
Please make sure that you are up to date with your Membership Dues.       
All Member Dues for the July 1st 2023 – June 30th 2024 fiscal year must be paid to participate in the show.       
Please contact Karen Kreps at audubonartists@gmail.com for any questions or concerns about renewing your membership
Important Dates:
·         In-Person Exhibit: November 4, 2023 -November 25, 2023
·        Online Exhibit: November 12, 2023 to November 12, 2024
·        Entry Deadline: Fri. September 1, 2023
·        Acceptance Notification to Associate and Non-Members:  
 Fri. September 29, 2023 (via email and website)
·        In-Person Accepted Artwork Drop Off: Tues. October 31, 2023
***If you are delivering work through our truck service, please be sure to have artwork shipped to the address listed below in the Q and A section PRIOR to October 30th.
·         In-Person Exhibition Opening Reception and Presentation of Awards:     
Sat. November 4, 2023, 1-3 PM EST
·        Artwork Pickup/Return Shipping: Tues. November 28, 2023
Q & A:
Q.)   Do I need to participate in BOTH the online and in-person exhibitions?
A.)    No, you may opt to showcase your work in just the online exhibit if you prefer.
 ·         Please be sure to send an email to audubonpresident@gmail.com notifying your preference if you wish to showcase your work only in the online exhibit.
·         If no notification is received, you will be considered for both the online and in-person exhibition. Our Juror will be selecting up to 100 2-D artworks and 20 3-D artworks to display in the in-person exhibition.
Q.) I was accepted to show my work in the in-person exhibit! How do I ship my work to the Art League of Long Island?
A.)    Artwork can either be dropped off by hand to the Art League of Long Island or mailed to Mike DePompeo's shipment service at the following address:
Mike DePompeo
5-00 First St.
Fairlawn, NJ, 07410
 ·         Artwork can be shipped to Mike DePompeo through UPS and FedEx.
 ·         Please be sure to label the back of your artwork with your NAME, TITLE, MEDIUM, YEAR, AND PRICE. This helps us to organize and label your work for the in-person exhibition!
·         Please be sure to include a prepaid return shipping label for your work to be sent back to you at the end of the in-person exhibition.
·        Mike DePompeo charges $80 for his entire service. Please be sure to include a check made out to Mike DePompeo for $80 (LEAVE MEMO LINE BLANK).
 ·         For any additional questions, please contact Vice President Severin Delfs at severin.delfs@gmail.com and Mike Depompeo by email at madepompeo@gmail.com and by phone at 201-873-1495.
Membership Directory
Our website at www.audubonarists.org has been undergoing a lot of updates. We are proud to announce that we now have a working membership directory!
Please follow Karen Kreps' instructions below to update the information on the directory:
On the Audubon Artists' website the Membership Directory has been redesigned so you now can get recognition for your membership. See 
https://audubonartists.org/wordpress/our-members/ 
Click on a name to get more details about the member. These pages can be customized and updated by you. For the first time, Audubon Artists are now able to 
o Upload their headshots for display on the member profile page
o Write and later update their art bios
o Post news of upcoming art shows or artistic accomplishments
The public and members will be able to search for members by name, medium, or membership level. The search field is at the bottom of the Member Directory. 
To edit your profile, all you have to do is log into your account on the website. This is done with your email and password. Since you have not had a password for the site in the past, the way to get one now is to use this link to get a new PW, using this link:
 https://audubonartists.org/wp-login.php?action=lostpassword
When you are logged in, at the far right of your own member listing, you will see a link to Edit Entry. Select that link and you can edit or remove details. All participation is voluntary (if you wish to not display some information). If you elect to include your address, it will only be visible to logged in members. Phone numbers will not display. If you wish for them to be publicly visible, you may include it in your Bio entry.
We reserve the right to review and moderate entries to ensure they conform to community standards and focus on our member's artistic activities. 
Audubon Artists encourages you to use the Member Directory to get to know your fellow members and to promote your artistic endeavors. Have fun using it.
 ——
Wishing you good health and happiness always,
Melanie Berardicelli
President- Audubon Artists, Inc.